Happy New Year! Did that November snow storm catch you off guard? When winter weather hits Michigan, it tends to have the worst timing. When snowstorms like that arise, we are faced with the chore of snow and ice removal. Have you planned and purchased the proper tools for the job? If not, head out and make sure you have the materials to get the job done. Or, call on the professionals to take care of the unwanted snow and ice.
Will any shovel work? Not so much. Choosing the right shovel for the job can help cause less stress on your body. Tips for selecting a shovel:
Choose a shovel that is lightweight but sturdy.
Handle height should reach the user's chest to reduce the amount of forward bending.
When used correctly, a handle with a bend, as opposed to a straight style, may cause less stress on your lower back. Make sure you aren't in an uncomfortable position when using.
A sizable push-style shovel will move large amounts of snow but may result in lifting too much weight.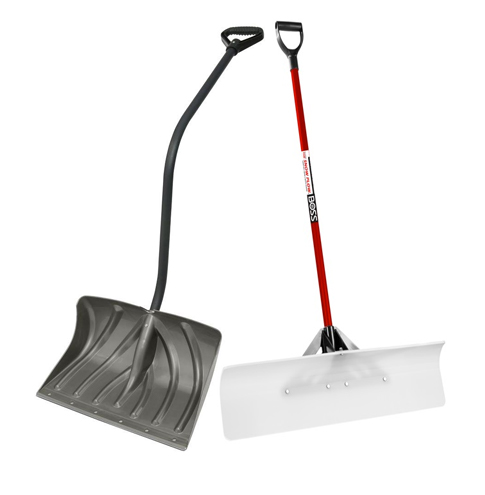 Be careful not to overexpose yourself to the cold. With serious snow removal, fatigue, muscular strains, and more severe injury, particularly to the lower back can happen if you are overexerting yourself. OSHA, the Occupational Health and Safety Administration says that "Physical exertion during snow removal can also cause injuries and illnesses. Snow removal can be strenuous, particularly because cold weather can be taxing on the body, and can create the potential for exhaustion, dehydration, back injuries, or heart attacks, and can increase the risk of falls."
Avoid any potential health risks and back strain that you may face when removing your snow. Let the team from Weiss Property Management remove unwanted snow and ice from your property. We offer a complete package for all your removal and preventative needs:
Snow Plowing
We provide reliable and thorough snow plowing and removal for banks, hospitals, and offices throughout Mid-Michigan. Our high-quality equipment and experienced staff can be depended on to protect your business from a costly slip-and-fall accident.
Sidewalk Shoveling and Snow Blowing
WPM offers edge to edge sidewalk shoveling and snow blowing that will ensure the safety of your employees and customers. Did you know that some municipalities require you to clear the city sidewalks after each storm?
Salt & De-icing
As a modern salt and deicing provider, we offer more environmentally friendly options, pre-treating solutions, and high traffic and refreeze area monitoring.
Snow Removal
Many of our clients are in Downtown Bay City or other areas where parking is a limited resource. We provide snow removal services to keep your parking lots and sidewalks free of excess snow.
Please contact us at (989) 778-1108 to learn more about snow plowing services. Keep your property safe by working with Weiss Property Management.  Schedule a consultation today!